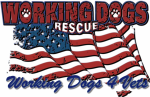 Working Dogs Rescue Working Dogs 4 Vets was designed to help match Rescue Dogs (Emotional Support Animals) with Veterans who suffer from PTSD. The dogs are great partners to a veteran that is readjusting to being back in civilian life situations. The unconditional love of a pet provides great benefits such as reducing Anxiety, Stress and Depression.
We bring in shelter dogs and assess them for temperament and ability. The dogs that we feel are good candidates for the program go through some general obedience training. We then match the dog with a Veteran in need, and allow the Veteran to foster the dog, and begin to work with them on how to continue training and working with their own dog, how to care for them and the benefits they provide.
This process gives our veterans a new sense of purpose and meaning to their lives, and gives both Pet and Veteran the companionship, friendship and love we all desire. Veterans find that working and training with their dog deepens the connection between the two.
Once we see that the Veteran and Dog are a good match we then allow the Veteran to adopt the dog at no cost. If the Veteran Requires the dog to accompany them in public places to help with their stress and anxiety we can help the Veteran train the dogs with several specific tasks for their needs that can qualify them as a "service dog" and to be allowed in public places with them.
WDR's Working Dogs 4 Vets program is currently available in the greater Phoenix, Arizona area as well as Eastern Ohio and Western Pennsylvania.
Interested in an Emotional Support Animal for yourself or a loved one? 
Like information on fully sponsoring a Veteran through Working Dogs 4 Vets as an individual or business?